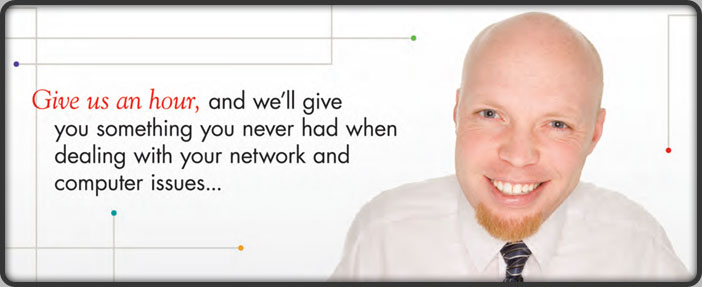 A SMILE!
If you've had IT problems, you know how frustrating it can be.
Next time you have a computer or network issue give us a call and take our:
FREE
One Hour Test Drive
- A
FREE
one hour diagnostic with one of our certified technicians.
During your
FREE Test Drive
, we can do any of the following:
Diagnose your computer issue
Check your network
Scan for and removeany virus or spyware
Perform a network tune-up
Discuss any upgrades you might be considering
Or, we can give you an hour toward any of our services.
Call today and ask for our
FREE Test Drive
. We're so confident you'll get value from our visit, that you just may want us around a lot more often.
Call 448.3403 ext. 111 and ask for your FREE one-hour consultation.
- CLICK HERE FOR A PRINTABLE COUPON -
We're here for all your computer and technology needs.